Video Marketing & Production in Calgary, AB
Educate empower and convert customers who are ready to take action. Brand Videos are the perfect first impression for you to begin any relationship on the right foot.
Brand Video Best Practices
When you're using video to reach your target market, the possibilities are endless and want to make sure you get the most out of your videos. That's why we've come up with a few more ways you can benefit from this type of video and how you can measure it to see even better results in your business.
Improve sales conversions
​
Increase average order value & order size.
​
Increase the number of qualified leads.
​
Target your ideal target market
​
Increase website retention & engagement
​
Express company brand, vision, and values.​
​
Start any relationship or conversation on the right foot.
​
Measuring results through:

Google Analytics (traffic, bounce rate, conversions)
​
Facebook ads (click-thru rates, cost per acquisition, conversions)
​
Email signature (clicks-to-leads/purchase)
​
YouTube (subscribers, engagement)
​​
​
Save yourself the time and energy from having to say the same thing over and over again. With answering FAQ's with this video asset.
Connect with clients who are prepped and ready to take action on your services.
Stand out from your competition and have this asset show how you get results and how you're different.
Client: Apiaries and Bees for Communities
Industry: Education & Training
Conversion: Course Sign ups
Eliese is a veteran when it comes to being an educator in the apiary space training and teaching new and seasoned bee keepers on how to make get started and prosper in agriculture. We worked with her to develop a brand video that would distill her business and services in 2-3 minutes.
📈 Increased Conversion Rate
📧 Increased Subscriber Rate
⏱ Increased Average Website Session Duration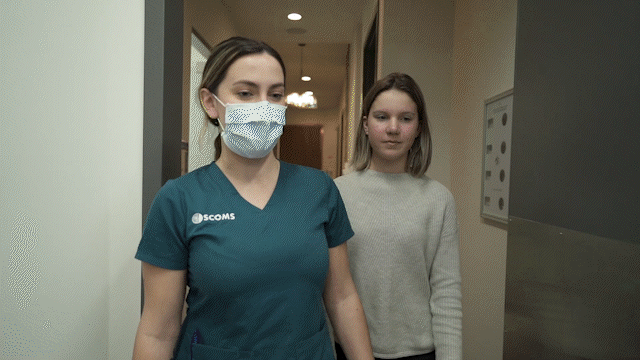 Client: South Calgary Oral Maxillofacial Surgery
Industry: Orthodontist
Conversion: Increased intake
We worked with South Calgary Oral and Maxillofacial Surgery to produce a brand video for their rebrand to improve doctor patient relationships. With this video it humanizes the experience and introduces the doctors to the patients before they even come in for a consultation.
👨🏻‍⚕️ Improved Relationship
📧 Increased Lead Generation
⏱ Increased Average Session Website Duration
Brand Video: My Friend Anna
Client: My Friend Anna Cleaning Inc.
Industry: Small Business and Residential cleaning services
Conversion: Timeline 2 weeks
Anna is an incredible cleaner and business owner. With her business rapidly growing she needed to slowly implement pieces that would free up her time while getting clients up to speed and excited to work with her. Time is important resource for Anna as she manages her 14+ employees and 85+ clients. So We created the brand video as the ultimate first impression of her and the business so she can manage her business and confidently know prospective clients are taken care of.
📈 Improved Conversion Rate
📧 Increased Lead Generation
⏱ Increased Average Website Session Duration
Client: Impact Orthodontics
Industry: Orthodontics
Conversion: Increase Patient intake & Increase in Trust
Impact orthodontics needed a creative asset that set them apart from their competition. Something that specifically spoke to their target market of families and mothers. Their average relationship with a patient can be as long as 7+ years. So they needed a brand video that would start the relationship off on the right foot and prepare them for what it would look like to get your teeth done with them.
🎯 Targeted Messaging
❤️ Increased Trust with Proof
📈 improved Conversion Rate
Client: Koyote Kennels
Industry: Dog Breeding
Conversion: Increased Trust & Sign ups
Laura has had 25+ years of experience working with the Shiba Inu Breed. She wanted an asset that not only spoke to her experience but how she is an ethical breeder. After producing this asset she has seen an increase in demand, her authority in the industry has gone up and she has been able to stand apart from her competitors. Laura Loved the video so much she sees it as a legacy video that speaks on behalf of her entire career.
❤️ Increased Trust With Proof
📧 Increased Lead Generation
📈 improved Conversion Rate
Trusted by brands of every size
Marketing Assets that Are Worth It
We're a video marketing agency that does things different from the rest.

Sure, we do animation, live-action, and motion graphics. But when you work with us, you're not just getting a partner in video—you're getting a partner in marketing and business as well. We reimagined what a video marketing agency should be to give you the creativity of a big agency—all at super-fast speeds and a fraction of the cost of a full marketing department.
We shoot & edit everything right here in Calgary, AB. No outsourcing is required.
Whether you're just getting started or have a full-blown marketing strategy, we've got you covered.
From start to finish, we can bring your idea to life, we're fast, dependable, and easy to work with, so you'll be using your finished asset right away.
We're here to help you think differently about your business. You have unique goals that differentiate you from your competition. We help you find those solutions that realize your goals.
Creative Brainstorm to Align Your Goals with the Creative
​
Scripting, Messaging & Storyboarding Support
​
A Director to Give Direction On Set Help On-Screen Talent Feel Comfortable
​
World-Class Video Production at 4K Resolution
​
Fully Licensed Music & Graphics
​
Animation
​
Voice Over Services
​
4-Point Marketing Blueprint to Ensure Your Videos Get ROI
​
A Producer to Manage the Project to Ensure it Goes Without a Hitch.
​